Untold Stories of Leadership & Networking.
New episodes every Tuesday.
A weekly podcast that features interviews with talented professionals who have achieved success in their field or industry. I ask probing questions to get them to share untold stories about their leadership journey and how they built and sustained their professional network.
Guest suggestion? I'm looking for guests who have a great story to share about their leadership journey. Please note that at least two-thirds of my guests are women. Email me your ideas.
Interested in hosting your own podcast? Watch my free Masterclass "Should I host a podcast?" it includes an hour-long replay plus Q&A and 14 pages of my notes.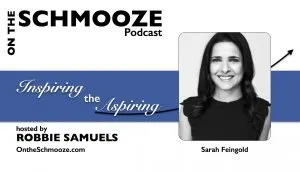 OTS 302: Inspiring the Aspiring – Sarah Feingold
Today's guest empowers the dreamers, partners with the doers, educates the thinkers, and inspires the aspiring. She has the very unique bragging right of being Etsy's first attorney and their 17th employee overall. For over nine years she helped Etsy scale from an...