Untold Stories about the Journey to Success.
New episodes every Tuesday.
Since 2016, I've hosted On the Schmooze, a weekly podcast that features interviews with entrepreneurs who have overcome challenges to achieve success. I ask probing questions to get them to share untold stories about their entrepreneurial journey and dig into how their professional network supported them.
Guest suggestion? I'm looking for guests who have a great story to share about the challenges they overcame on the way to becoming successful entrepreneurs. Please note that two-thirds of my guests are entrepreneurial women. Email me your ideas.
Interested in hosting your own podcast? Watch my free Masterclass "Should I host a podcast?" it includes an hour-long replay plus Q&A and 14 pages of my notes.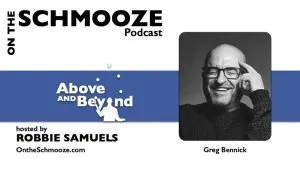 OTS 351: Above and Beyond – Greg Bennick
Today's guest knows that if you want to build a better future, you've got to build a better now. He shares new angles on how any one of seven unique directives builds self-esteem in moments, increases focus, and improves how we show up today as leaders, team...