Robbie Samuels has lectured at many leading educational institutions, including Harvard University, Brown University, Cornell University, and Northeastern University. He's presented for Marriott International, the U.S. Embassy in Mexico, AmeriCorps, Hostelling International, Feeding America, and the California WIC Association.
He speaks on designing and executing engaging virtual events, virtual and in-person networking, personal branding, and relationship-based business growth strategies.
Known for sharing "small, big ideas" through an engaging and humorous presentation-style, Robbie's audiences walk away ready to immediately apply simple strategies that have the power to inspire significant change.Exit Visual Builder
Below are sample topics. Please feel free to contact us if you'd like to schedule a talk or discuss a customized presentation.
You can also view videos of his talks at www.youtube.com/robbiesamuels.
Low-Tech Solutions for Highly Engaging Zoom
When Covid-19 brought all in-person events to a screeching halt, events became synonymous with virtual events. You now have Zoom basics down. The problem is that basic skills are not enough to stand out as a top-notch virtual presenter.
You don't need a high-tech recording studio with a green screen, hair light (that's a real thing), and fancy software to level up your Zoom game. Focus on improving your technique rather than your technology. 
This training will help you design transformative, inclusive, and engaging online experiences. 
Your message may not be getting across if you are not providing a thoughtful participant experience design that focuses on intentional engagement. All too often, traditional event design, particularly in a virtual setting, benefits the loudest, most confident, and most experienced participants.
Robbie Samuels shares how to use the latest features and online facilitation techniques to structure your events, so everyone feels welcomed instead of merely invited. Using purpose-first design creates sessions that move participants from inspiration to action.
No more Zoom fatigue. No more death-by-Powerpoint.
If virtual programming is part of your business model, you cannot afford to use skills and settings stuck in 2020. Break away from the pack and learn to design engaging and productive virtual events.
Key Takeaways
Incorporate purpose-first design to create sessions with specific outcomes in mind.

Enhance virtual presentations by utilizing improved online facilitation techniques.

Create opportunities for ALL voices to be heard, not just the most privileged or experienced.

Design breakout rooms that foster intentional engagement.

Apply these online facilitation and event design concepts to any virtual platform.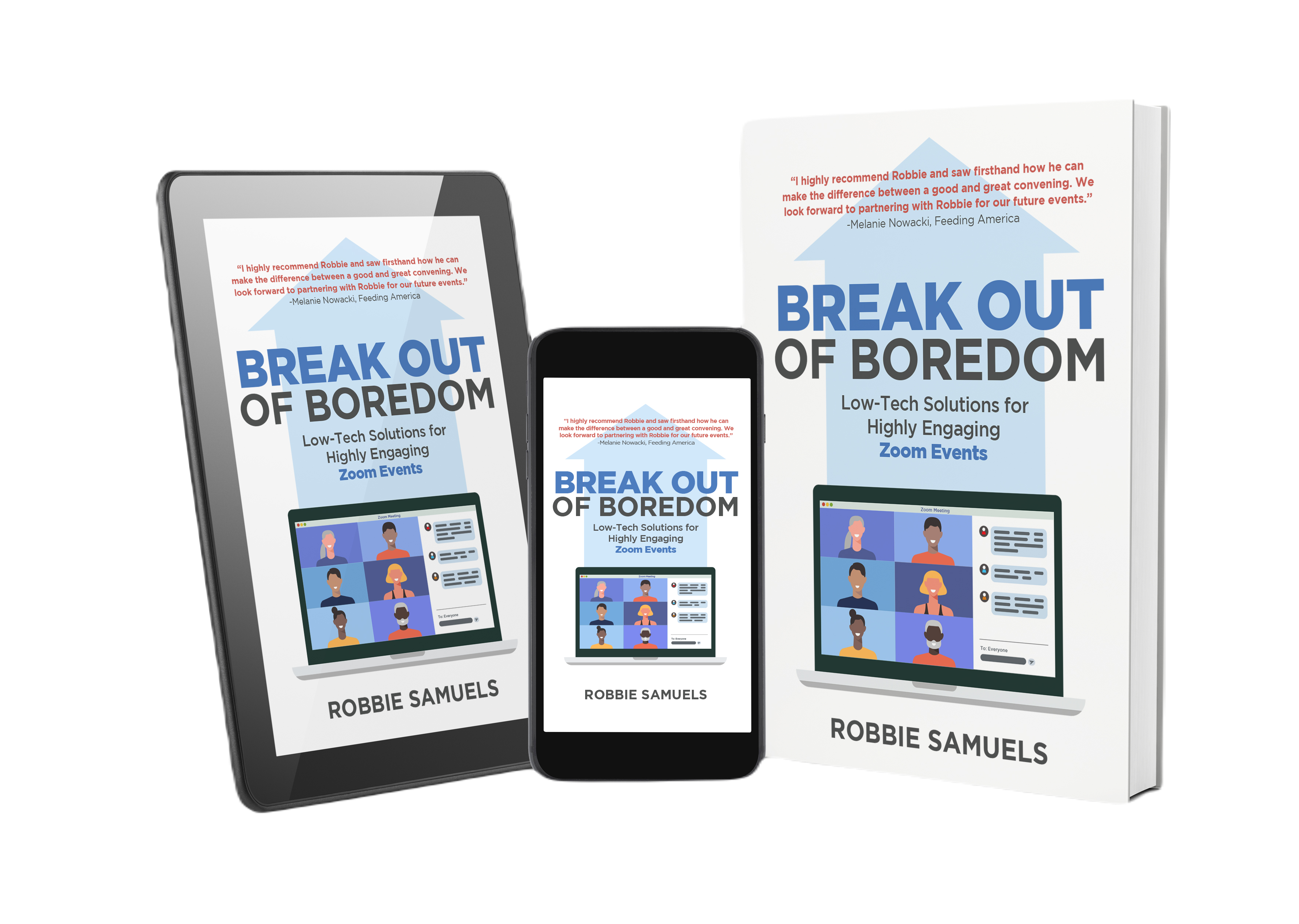 ➡︎ INTERVIEW TOPIC: No Room for Bad Zoom
Participants were forgiving when the pandemic began and events quickly shifted online, but now they realize that "bad Zoom" is the cause of their "Zoom fatigue." It's time to think differently. Instead of trying to replicate in-person events, let's reimagine them to meet the needs of participants. We invited Robbie Samuels to share his personal evolution from speaking on stage to online. He's a virtual event design consultant and executive Zoom producer who has hosted or presented at well over 100 virtual events, including a weekly #NoMoreBadZoom Virtual Happy Hour he's hosted since March 13, 2020. He is also the author of three books, including "Break Out of Boredom: Low-Tech Solutions for Highly Engaging Zoom Events."
He will share:
The ingredients and skills necessary for designing an engaging online experience.
The importance of identifying the purpose of your event.
What it means to think cinematic rather than theatrical.
Why it is important to get 5% better every time you host or present an online event.
This interview could include networking breakout sessions emceed by Robbie.
From 2009-2020, this was Robbie's signature talk…
Art of the Schmooze: Strategic, Effective, and Inclusive Networking
Career progression often depends on fostering a strong and supportive professional network, but do you feel awkward at networking events and uncomfortable making new connections? Attend this engaging session to learn tips and tricks that will help introverts and extroverts work a room, from having the right tools to knowing the best approach to engage prospective colleagues and collaborators. No matter your role, you will benefit from being more strategic, effective, and inclusive while building great relationships. Our presenter, Robbie Samuels, believes that your impact on the world is directly related to your willingness to engage your community. Through this session, he will show you how.
At the completion of this session, participants will be able to:
Employ strategy and selectivity when choosing which events to attend
Identify how to take advantage of small networking opportunities at events
Shift their mindset around relationship-building to begin to notice opportunities in everyday life
Adapt body language to increase approachability and ease of navigation in the room
Apply graceful exit strategies that continue to build relationships
In response to our new reality, Robbie shifted to sharing how to
Leverage Your (Virtual) Network to Grow Your Business
Prior to the pandemic, staying connected with your network and meeting new connections could be accomplished at industry conferences. When those events were postponed, canceled, or transformed into online events those networking opportunities seemed to disappear – or did they? Virtual networking opportunities, through video calls, Facebook groups, and virtual events have become quite prevalent and proven quite beneficial. As the events industry recovers and travel becomes a part of our life, the benefits of virtual business networking won't be forgotten. How we meet new people and reconnect with colleagues may have changed, but why we connect is still the same. The key is to figure out how to weave these opportunities into our lives so we reap their benefits without overextending ourselves. 
At the completion of this session, participants will be able to:
Create a plan that matches their goals for networking
Update their LinkedIn and social media profiles to reflect how they want to be known
Utilize video conferencing to stay connected with colleagues
Employ strategy and selectivity when choosing which virtual events to attend
Nurture existing relationships by mailing cards and gifts
Identify online communities that attract the type of people they want to engage with
Shift their mindset from "me first" to "how can I help?"
➡︎ INTERVIEW TOPIC: How do you turn great ideas into sales? Relationships are the answer.
Ever get a great idea for a new product or service? Was your next thought to set up a website, pay for an online course platform, and/or set up Facebook ads? Sloooowwww down. Before you spend money, time, and effort trying to sell something, figure out whether there is an audience for it. How? By leaning into your network. Those relationships will help you determine whether your idea is sound or a waste of time. You may even discover new and even better opportunities. Join us to find out how to build an audience before trying to sell anything. You'll learn a repeatable process to help discover likely prospects from within your existing network and co-create a pilot for your next offer through research calls.
➡︎ How to build an audience BEFORE selling anything
What's the one thing you need to have a successful business? To be busy? To have a lot of expenses? A website? Expensive software? An email list? Nope. There is just ONE THING you need to be a successful business. A product or service that sells.
If it feels like you've been banging your head against a brick wall trying to sell a product or service, it's time to try something new. Stop guessing what people want to buy from you. Create exactly what your prospects know they need AND help them realize there is an even bigger problem that is getting in their way of success. How do you do that? The answer is simpler than you think. You do it by asking your likely prospects.
Join networking expert and business growth strategy coach Robbie Samuels, as he shares how to identify likely prospects from within the list of people who already know, like, and trust you: your network. Conducting research calls with these likely prospects will save you time, money, and energy because you will know EXACTLY what they need and can create a product or service that fills that need.
By attending you will learn how to:
create a list of likely prospects who know, like, and trust you
reconnect with those folks even if it's been years
discover the exact problem prospects are trying to solve
build a referral network that will help you promote your offer
You will also be given access to The Big Results Toolkit which contains several resources to help you implement the strategies in Robbie's bestselling book, "Small List, Big Results: Launch a Successful Offer No Matter the Size of Your Email List." This book has received over 200 Amazon reviews, ranked at #4201 of all US Kindle, reached #1 in eight paid categories (including two Canadian and one Australian), and was the #1 New Release in five categories (including Women & Business).
Since 2009, Robbie has presented on the topic of strategic and inclusive networking. He was invited to share his "croissants vs. bagels" concept as a TEDx:
We've all gone to events where we felt out of place or excluded – whether it's a junior high dance, a business conference, or a party where we didn't know anyone. As a transgender man, Robbie Samuels knows what it feels like to wonder if he fits in or belongs. Observing the dynamics of groups, he noticed that small changes in body language can lead to outsiders feeling welcomed – or pushed aside. To share this idea, he created "croissants vs. bagels," a simple concept to help anyone take action to make their business, school, or community more welcoming. In his TEDx talk, he shares this sticky concept and explains how simple, small gestures can mean all the difference for anyone who has ever felt a little bit like an outsider – which is all of us.
Hire Robbie to Emcee and DJ a Social!
Are you looking for a creative way to engage your members? Want to give them opportunities to get to know each other beyond what is written on their business cards? Robbie masterfully facilitates a 60-90 minute virtual networking social. These can be member engagement events, volunteer appreciation parties, staff socials, or holiday parties. Robbie will bring energy and excitement to your next event as the emcee/event host.